Free Hosting Plans is a Joke!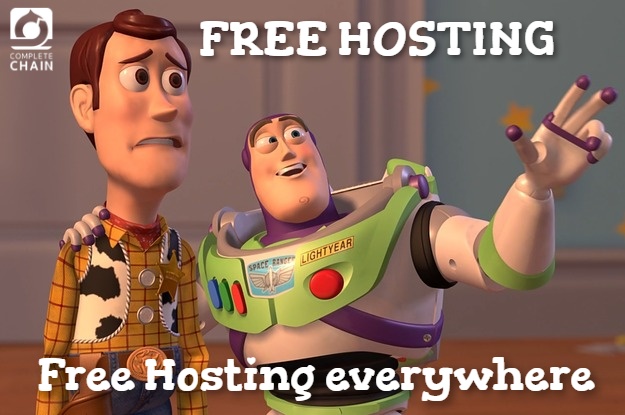 Free Web hosting is a gold mine comedy because there's so much that can be wrong, so much that does go wrong. So many free and too-good-to-be-true offerings from untrustworthy companies, you don't even know who they are, and how they are making their money! Always remember that if the service is free, you are the product!
Whether you're searching for a hosting plan, a web hosting provider, a web hosting customer, or simply someone with a healthy interest in website hosting services, you're in the right place.
Thousands of website hosting companies compete to provide web services to non-technical customers and small businesses. These companies often place a priority on advertising over actually providing a Quality of Service (QoS). While they delude people with free plans advertisements, a sudden upgrade option appears which unlocks extra features. Many of these -pretend to be a free hosting- companies have highly-polished homepages offering aggressively-discounted types of deals. They will then make it difficult for you to remove payment methods and/or cancel the plan. It will also automatically charge you with a minimum of 250$ for an automatically upgraded (so-called) premium plan. This is how these companies make their money, don't fall for it.
But if you already did.. Cheers! You have been hacked! 
The Main Reasons of Why You Should Not Choose a Free Hosting Plan
Before you lose your data, you'll need a solid understanding of network hardware and software, a blazing-fast internet connection, and a reliable power supply. Even then, you still might be opening up your network to security risks. The upfront cost could be significant, and the site will still likely never be as fast as it would be if hosted in an enterprise data center. Your data is not secure and your website is down! Your Emails have vanished, you lost them all. 
1) You don't own your website's content
Any content you use or upload to your free website hosting service (text, photos…etc.) isn't owned by you. Instead, the free web hosting company owns all the rights. From a business perspective, you should have all the rights to your content to ensure your data is not being used or sold by a 3rd party.
2) SEO ranking, not anymore! Makes Getting Ranked Much Harder 
Because your domain isn't simple, it's hard for your site to rank on search engines with free website hosting. Which is an important factor of SEO. A URL that contains only your business name looks more professional than "mysmallbusiness.freehosting.wordpress.com". To be ranked, Google and other search engines take into consideration your site's URL. Another reason why it's harder to get ranked is your site is slow, filled with ads, and a target for spammers. It lowers the trust factor for your website. 
3) Difficult to customize, good luck with that! 
just think about adding a new feature to your site or adding some content. If you're unfamiliar with website editing, it's next to impossible. Especially without reliable support. In fact, most free web hosting services limit what you can even add to your site. This might include extra pages, video...etc. Even though you started off with free web hosting, this limits you to what you can customize in the future.
4) Little to No Support
When your website goes down, you may not have reliable support. Sometimes you need to look at a very long waiting time. Maybe, not being able to reach support at all.
5) Can't get a branded email
If you are looking for having an email with your business's name as the domain name, you won't be able to.  A lot of free website hosting doesn't offer branded email services. If they do, it won't be free.
There are more options that are not available and will not be available on free hosting plans such as: 
1) Transferring your website and your emails from one hosting to another. It's either a very slow process, or can't be done.
2) A Slow site from a customer perspective is not a place to stick around. If it doesn't load within 3 seconds, most customers leave the page. 
3) Irrelevant Ads popup ads that are everywhere is a bad idea. Especially the ads that don't relate to your business or interests as they slow down your website and give a very bad user experience. 
Conclusion
Free website hosting plans will not save you money, think about your long-term goals and objectives. Do you want a professional email? Full-time support? Creating & editing your website's content, generating new leads, and gaining revenues? You might consider thinking twice before you choose your perfect hosting plan.