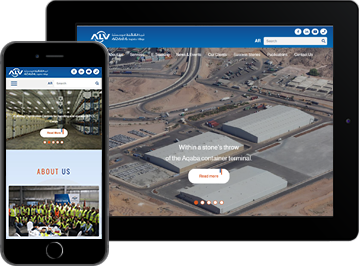 The Aqaba Logistics Village (ALV) project was conceived to fulfill the vision of HM King Abdullah II in developing Aqaba Special Economic Zone as a regional hub for logistics and cargo support.
ALV's aim is to support this vision through the establishment of high standards in service quality, efficiency and professionalism. Here ALV has a national role in supporting Jordan's economy through the maintaining of Aqaba's competitive edge in service provision to local and transit traders and agents.
Today, ALV offers warehousing, logistics and cargo support services from a 470,000 sqm site adjacent to Aqaba Container Terminal (ACT). The company continues to develop this site with the needs of both local and international companies in mind.
Revamped site: http://alv.jo/
What We Did
Complete Chain has presented the Aqaba Logistics Village (ALV) with An informative website where it shows the services, events, and important announcements presented by the corporate.
The website is built using Drupal CMS. By using drupal, we ensure the support of rich content management, flexibility, high scalability, and the capability of sharing content in multiple languages across multiple platforms.
Implemented Services
We accomplished the following services for ALV
Research & Analysis.
A user-friendly interface
Customized user experience and training services to ensure that the concerned parties have the skills to interact with the system.
Different portals for the various departments of the council to ensure the completeness of the system.
Quality Assurance.
Security Assurance.
Hosting Infrastructure Setup.
Search Engine Optimization (SEO).
Responsive Design.
Quality Control.
Monitoring.
Maintenance & On-going Support.
type of Project
Company Website, Web Application