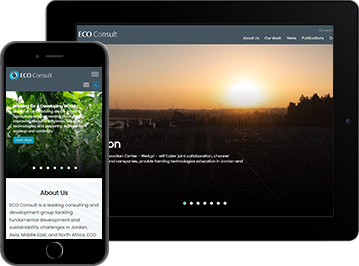 ECO Consult is a leading consulting and development group tackling fundamental development and sustainability challenges in Jordan, Asia, Middle East, and North Africa. ECO Consult has integrated and adopted management and technologies innovations to improve livelihoods, empower government organizations, build market systems, and support communities. We provide integrated solutions to a wide range of clients and partners including donors and financing institutions, national and local governments, community and civil society organizations, and businesses.
Website: https://www.ecoconsult.jo/
What We Did
Complete Chain has presented ECO Consult with An informative website where it shows the services, events, and important announcements presented by the corporate.
The website is built using Drupal CMS. By using drupal, we ensure the support of rich content management, flexibility, high scalability, and the capability of sharing content in multiple languages across multiple platforms.
Implemented Services
We accomplished the following services for ECO Consult
Research & Analysis.
A user-friendly interface
Customized user experience and training services to ensure that the concerned parties have the skills to interact with the system.
Different portals for the various departments of the council to ensure the completeness of the system.
Quality Assurance.
Security Assurance.
Hosting Infrastructure Setup.
Search Engine Optimization (SEO).
Responsive Design.
Quality Control.
Monitoring.
Maintenance & On-going Support.
type of Project
Company Website, Web Application