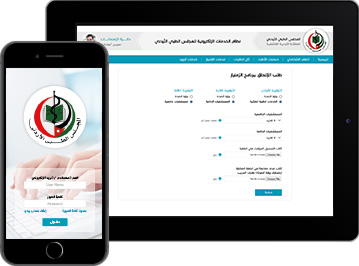 Complete Chain has partnered with the Jordan Medical Council (JMC) for years now managing their overall web presence. We built their website, the workflow systems, and automated the whole process based on the guidelines provided by JMC & best practices for web development.
The JMC institution is dedicated to the training of doctors and rehabilitation of specialists and general practitioners through planning, implementation, and the supervision of scientific programs. In addition, planning and the academic curriculum for various medical specialties are accredited by the Medical Council and can lead to obtaining a certificate of Competence Supreme (Jordanian Board) in various medical and dental disciplines.
The Certificate of Specialization (Board) which is issued by the Jordanian Medical Council is the highest vocational certificate in the Kingdom. Therefore, The JMC is considered to be a national scientific institution.
E-service website: https://ejmc.complete-chain.com/
What We Did
Complete Chain has worked on the E-System of the Jordanian Medical Council (EJMC) for years; managing and upgrading constantly as this is considered to be a huge system and needs continuous support.
The EJMC acts as a portal designed specifically to serve the needs of the council. E-services delivery will be a key source of innovation for the council as it will transform the way the public sector presents its services by replacing the traditional channels with more efficient and effective electronic channels.
We used Drupal CMS as a base to help the council in delivering better quality services. The system offers the availability of its services 24/7, faster process, more convenient & more personalized design.
Implemented Services
Research & Analysis.
A user-friendly interface
Customized user experience and training services to ensure that the concerned parties have the skills to interact with the system.
Different portals for the various departments of the council to ensure the completeness of the system.
Quality Assurance.
Security Assurance.
Hosting Infrastructure Setup.
Search Engine Optimization (SEO).
Responsive Design.
Quality Control.
Monitoring.
Maintenance & On-going Support.
EJMC Implemented Features
Receive application forms electronically and download documents through the computer. 
 
Increasing the speed of evaluation of the application submitted by the doctor.
 
Archive the doctor's profile electronically with all the required documents. 
 
Provide the doctor with a secret number of his own, allowing him/her to access his/her account on the site at any time.
 
Communication service via email or chat.
 
The system's clock is integrated with a communication system that reminds the user about the approach of an exam or the availability of a training course.
 
A payment gateway.
 
An optimized database to ensure the system can save a huge amount of data and retrieve it fast.
 
The ability to evaluate the documents submitted by the doctor on his/her account and ensure the completion of the doctor's file.