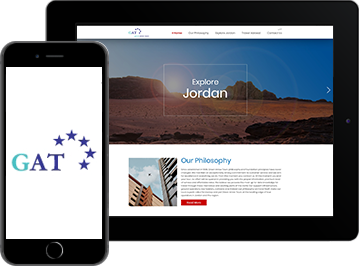 Green Arrow Tours (GAT) is one of the leading tours & travel agencies in Jordan with extensive connections in Jordan and the region. GAT has been established in 1996 with principles that have never changed, they maintain an exceptionally strong commitment to customer service and they aim for excellence in everything they do. Their support infrastructure, ground operators, tour leaders, contacts, and philosophy on travel itself, make the tours of a superb value for money and put Green Arrow Tours at the leading edge of tour operators in Jordan and the region.
Website: https://gat.jo/
What We Did
Complete Chain initiated the GAT project by assessing their business needs, identifying the solution, and developing a goal-oriented plan. The site value along with multiple resources was analyzed and restructured to architect a new informative website with a prominent user experience.
The new website's layout and information architecture were constructed from the research to clearly organize the information to its targeted audiences. The new architecture was also tailored to attract individuals and clientele to increase conversion rates. The development team built a fully scalable site with SEO enhancements to increase search indexing and visibility to search engines.
Implemented Services
We accomplished the following services:
Research & Analysis.
Content Support & Strategy.
Quality Assurance.
Visual Web & Responsive Design.
Web Design Extension & Guideline.
Search Engine Optimization (SEO).
Social & Multimedia Integration.
Hosting Infrastructure Setup.
Quality Control.
Maintenance & On-going Support.
Security Assurance.
Monitoring.