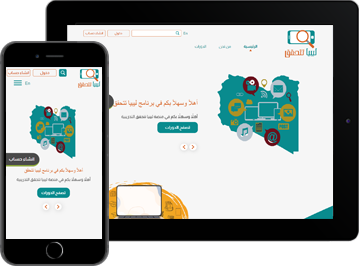 Complete Chain initiated Libya Tatahaqaq project by assessing their business needs, identifying the solution, and developing a goal-oriented plan. The site value along with multiple resources was analyzed and restructured to create a new E-Learning management system (LMS) and a portal with a prominent user experience.
The new LMS, Portal layout, and information architecture were constructed based on the conducted research to clearly organize the information to its various targeted audiences. The aim of the interactive website is to create interaction between the users and the content, allowing them to have a personalized experience that goes beyond the usual browsing. Thus, helping them gain trust with their consumers.
Libya Tatahaqaq partnered with Complete Chain to provide their audiences with online courses, exams, and certificates thus contributing to their noble role of education to expand learners' perceptions and opportunities.
Website: https://www.libyatatahaqaq.com/
Implemented Services
We accomplished the following services:
Research & Analysis.
Content Support & Strategy.
Quality Assurance.
Visual Web & Responsive Design.
Web Design Extension & Guideline.
Search Engine Optimization (SEO).
Social & Multimedia Integration.
Hosting Infrastructure Setup.
Quality Control.
Maintenance & On-going Support.
Security Assurance.
Monitoring.
type of Project
e-Learning system, Web Application