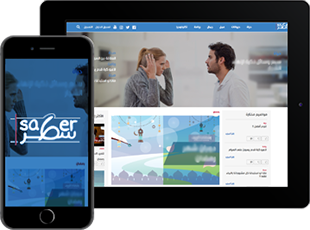 Sa6er is an electronic platform that is rich with entertaining, educational, and cultural subjects that has the main purpose to enrich the Arabic content with everything new and useful.
Its content is presented with both video and images throughout all social media platforms. Due to the lack of Arabic content on the Internet which comes in relation to the huge inflation in the number of Internet users from the Arab world, Sa6er has chosen to stand out in using strictly the Arabic language. And even if some websites may introduce similar subjects, what makes Sa6er different is presenting their content in a funny way without boring the reader.
Website link: http://www.sa6er.com/
What We Did
Complete Chain initiated the Sa6er project by identifying their business needs, determining the solution, and developing a goal-oriented plan. Our first step was to get a clear understanding of the website's purposes and its target audience. Then based on the information that was gathered in the previous phase, the sitemap was created.
During the design phase, the website took shape and all the visual content, such as images, photos, and videos have been created. Powered by Drupal, the site was implemented, keeping in mind that it needs to easily connect to all social media platforms and the simplicity of the design. In the end, our Quality team tested every single link to make sure that there are no broken ones among them.
Implemented Services
Research & Analysis.
Content Support & Strategy.
Quality Assurance.
Visual Web & Responsive Design.
Web Design Extension & Guideline.
Search Engine Optimization (SEO).
Social & Multimedia Integration.
Hosting Infrastructure Setup.
Quality Control.
Maintenance & On-going Support.
Security Assurance.
Monitoring.