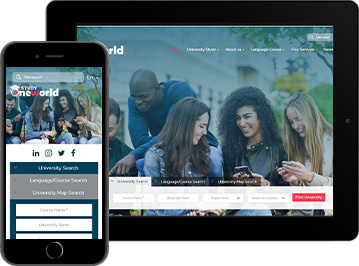 Study One World (SOW) is a leading company in the MENA region that provides academic services to Arab students. SOW was founded by one of the owners of Yes Atlas to implement the vision of obtaining appropriate and effective courses and specializations by Arab students in a direct and affordable manner from the highest-ranking universities around the world.
The website will be launched soon..... 
What We Did 
Complete Chain's first step to implementing the project was identifying the business needs, determining the solution, and developing a goal-oriented plan. Next, to get a clear understanding of the website's purposes and the targeted audience, and based on the information that was gathered in the previous phase, the sitemap was created.
During the design phase, the website took shape and all the visual content, such as images, photos, and videos have been created. In the end, our Quality team tested every single link to make sure that there are no broken ones among them and the website is functioning as intended.
Implemented Services
We accomplished the following services:
Research & Analysis.
Content Support & Strategy.
Quality Assurance.
Visual Web & Responsive Design.
Web Design Extension & Guideline.
Search Engine Optimization (SEO).
Social & Multimedia Integration.
Hosting Infrastructure Setup.
Quality Control.
Maintenance & On-going Support.
Security Assurance.
Monitoring.