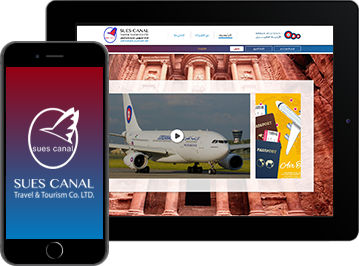 Sues Canal Tours & Travel was established in 2011 and has a long history of tourism extending from offices in Iraq and Egypt, and continuing in Jordan currently where it excelled in all areas of tourism. 
What We Did
Complete Chain was selected as a long-standing company in web development solutions to analyze and serve Sues Canal expectations in Travel & Tourism extending from Jordan to the middle east.
Complete Chain & Sues Canal caught hands together to target the goals in developing a comprehensive system for online flights reservation along with a high-scaled usability system with SEO enhancements to increase search indexing and visibility to search engines.
We built the system on the best quality standards in addition to the best management & technical methodologies that allow thousands of concurrent users to access the system with high speed and performance, taking into account the browser's security and compatibility.
Implemented Services
VRS-API Integration
Research & Analysis.
Content Support & Strategy.
Quality Assurance.
Visual Web & Responsive Design.
Web Design Extension & Guideline.
Search Engine Optimization (SEO).
Social & Multimedia Integration.
Hosting Infrastructure Setup.
Quality Control.
Maintenance & On-going Support.
Security Assurance.
Monitoring.