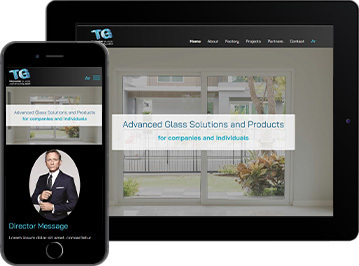 Techno Glass is a leading company that was established in 2014 as a specialist in the glass industry and strives their efforts for Glass to reach the best services that satisfy the needs of customers and the highest quality at the local and global level. Techno Glass company is one of the leading companies in glass manufacturing that prides itself on providing prompt, courteous, quality service with fair and affordable pricing.
Website: http://www.technoglass-jo.com/
What We Did 
Complete Chain developed an informative website that allows its visitors anytime anywhere to have an overall knowledge about Techno Glass, it also provides the visitors the ability to discover all kinds of services, products, and projects that were done by Techno Glass.
Our first step was to get a clear understanding of the website's purposes and its target audience. Then based on the information that was gathered in the previous phase, the sitemap was created.
During the design phase, the website took shape and all the visual content, such as images, photos, and videos have been created. In the end, our Quality team tested every single link to make sure that there are no broken ones among them.
Implemented Services
We accomplished the following services:
Research & Analysis.
Content Support & Strategy.
Quality Assurance.
Visual Web & Responsive Design.
Web Design Extension & Guideline.
Search Engine Optimization (SEO).
Social & Multimedia Integration.
Hosting Infrastructure Setup.
Quality Control.
Maintenance & On-going Support.
Security Assurance.
Monitoring.