Maintenance and Technical Support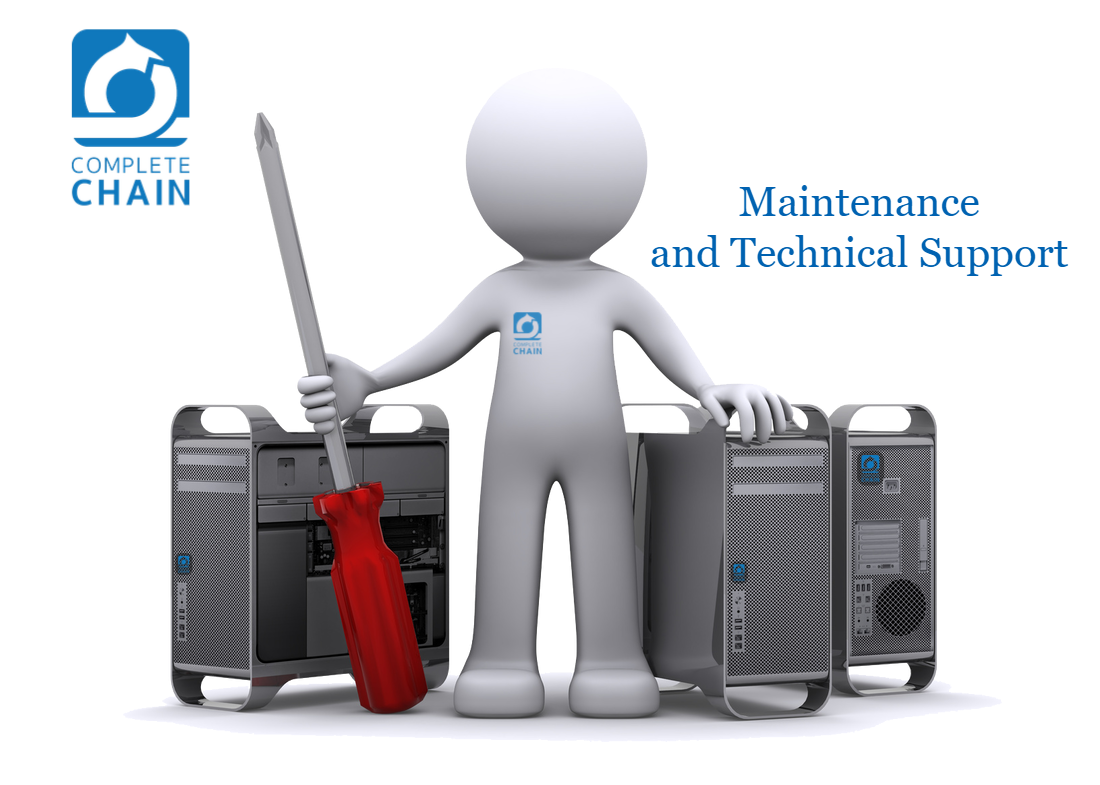 The main role of Maintenance and technical support is about understanding how information systems are used as applying technical knowledge related to computer hardware or software. AS AN IT technical support will monitor and maintain the computer systems and networks of your organization. 
Outsourcing IT support companies offer free or paid technical support and maintenance for the products they sell or services that they provide. IT support can be provided in-person by offshore support staff. Other support services can be conducted via online chat, over the phone, email, forum comments or incident reporting. In most cases, many big companies have in-house IT departments that conduct troubleshooting and technical support for their own staff. However, in some small and medium-sized enterprises (SMEs), they resort to outsourced IT support to minimize overhead costs and achieve strategic operational advantages.
Types of IT technical support:
•    computer networks - installing, configuring and maintaining computers in large organizations
•    desktop support - providing direct user assistance
•    Contract Hardware Maintenance - working for a business with contracts to maintain and repair computer hardware
•    Vertical Software Applications - working for a supplier of a software application for a specific business sector, such as retail, travel, or pharmaceuticals
•    Managed Hosting Providers - ensuring clients websites and applications stay up and running and offering technical support
What IT technical support will do: 
- Installing and configuring computer systems
- Diagnosing hardware and software faults and solving technical and applications problems, either over the phone or in person
Different types of maintenance: 
Generally, there are 4 main maintenance strategies:
Corrective maintenance
Preventive maintenance
Risk-based maintenance
Condition-based maintenance
Corrective Maintenance: Maintenance is carried out following detection of an anomaly and aimed at restoring normal operating conditions. This approach is based on the firm belief that the costs sustained for downtime and repair in case of fault are lower than the investment required for a maintenance program. This strategy may be cost-effective until catastrophic faults occur.
Preventive maintenance: Maintenance carried out at predetermined intervals or according to prescribed criteria, aimed at reducing the failure risk or performance degradation of the equipment.
The maintenance cycles are planned according to the need to take the device out of service. The incidence of operating faults is reduced.
Risk-Based maintenance: Maintenance carried out by integrating analysis, measurement and periodic test activities to standard preventive maintenance. The gathered information is viewed in the context of the environmental, operation and process condition of the equipment in the system. The aim is to perform the asset condition and risk assessment and define the appropriate maintenance program. All equipment displaying abnormal values is renovated or replaced. In this way it is possible to extend the useful life and guarantee over time high levels of reliability, safety and efficiency.
Condition-based maintenance: Maintenance based on the equipment performance monitoring and the control of the corrective actions taken as a result. The real actual equipment condition is continuously assessed by the on-line detection of significant working device parameters and their automatic comparison with average values and performance. Maintenance is carried out when certain indicators give the signaling that the equipment is deteriorating and the failure probability is increasing. This strategy, in the long term, allows reducing drastically the costs associated with maintenance, thereby minimizing the occurrence of serious faults and optimizing the available economic resources management.
Conclusion 
Tech support experts assist their clients through different channels such as online support. Basic inquiries can be responded using the telephone, SMS, or through the website. In most instances, face-to-face interaction is necessary to resolve complex hardware or software issues.
The provided technical support varies per customer. This usually depends on whether the service assistance is either paid or free. Most outsourcing IT companies provide free technical consultations to customers in various media. Very few IT professionals provide dedicated and one-on-one assistance. For those who subscribe to premium technical support, they get special services with immediate feedback in cases of problems after selecting a pay-as-you-go system.
The pay-as-you need scheme requires you a one-time charge to get immediate resolution in case you encounter issues in your bought software product or acquired service. You can customize your subscription either monthly or annually to increase or reduce the support level for any customer. This is highly recommended for firms that need routine tech support and maintenance. 
Outsourced IT support team involves both dedicated development team application development and maintenance personnel. These are highly recommended for SMEs with basic apps and do not require full-time resources. Shared resources can either be employed for a fixed number of hours daily or can be contacted when needed to support any contingency tasks. Aside from addressing the company's specific needs, the maintenance model can be customized based on the client's requirements.
Application development and maintenance services are needed to do certain functions such as:
Track and resolve defects
Implement software change requests
Conduct emergency patches, releases, and version updates
Test and monitor performance
Execute quality assurance
Ensure proper system and user documentation
Upgrade technology of current apps
Assist in-app upgrade or mobile and/or a cloud migration
Create database backup and app-related infrastructure support
Provide reinforcement of needed support by the team
*** Small and Medium-sized enterprises (SMEs)