Meta may shut down Facebook, Instagram in Europe in the next few months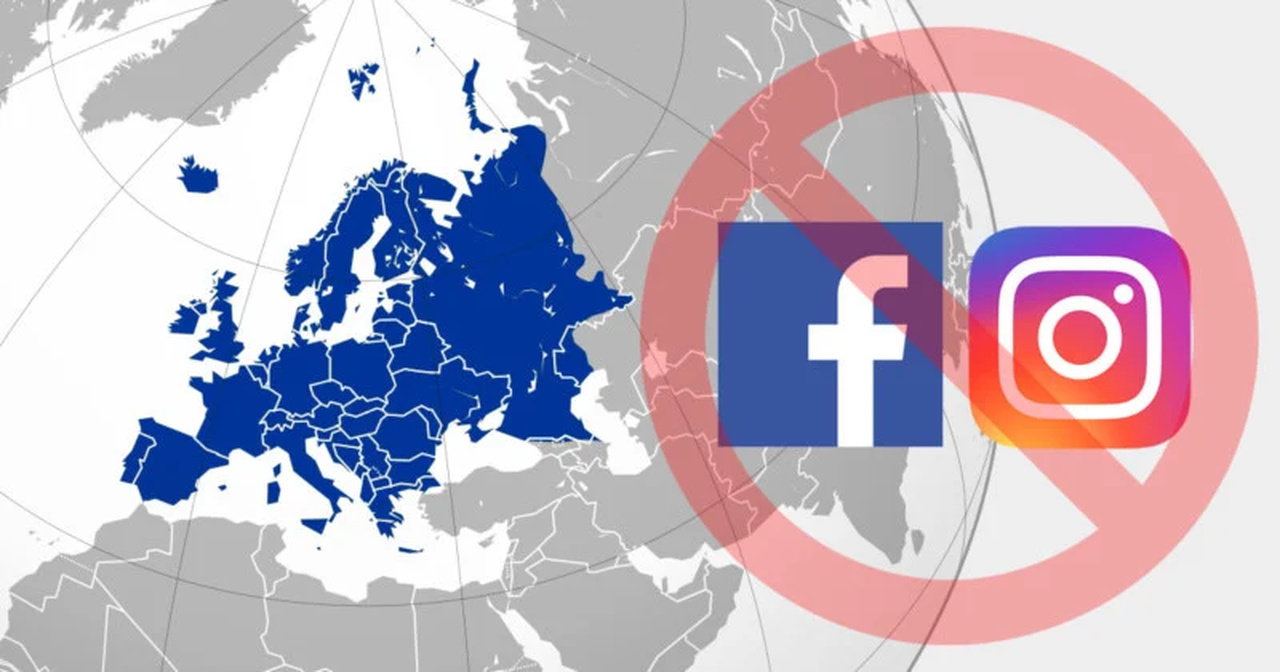 Is it Really Possible for Facebook and Instagram to Be Banned in Europe?
Several rumors surfaced over the weekend claiming that Facebook's parent company, Meta, may contemplate shutting down its services in the EU due to a continuing legal battle over how it handles EU user data.
Owned by Mark Zuckerberg Meta, the parent company of Facebook and Instagram, has stated that its two popular social media platforms in Europe may be forced to shut down in the next months.
The shocking allegation was made in Meta's annual filing with the Securities and Exchange Commission, which requires publicly traded firms to identify risks that could affect their profits and losses.
What exactly is the problem?
While it is well known that social media sites such as Facebook and Instagram rely largely on user data for their business models, Europe may soon shut off this source. It all started in 2016 when the General Data Protection Regulation (GDPR) was passed in Europe, tightening data security standards. However, the European Union's Court of Justice declared in July 2020 that the EU-US Privacy Shield agreement was illegal. The court did, however, allow the businesses to apply the Standard Contractual Clauses (SCC), which allow data to be transferred from the EU to another nation while being compliant with the GDPR.
Meta has been running the two platforms under these provisions for almost a year and a half, but the SCC may be scrapped by the court soon. Max Schrems, an Austrian privacy activist, filed a petition against the SCC. Hearing the petition, the European Union's Court of Justice concluded that US law did not provide a "sufficient level of protection." 
Because this matter was brought before an Irish court, Meta's data privacy policy was examined by the country's Data Protection Commission. Meta's data privacy precautions are "not up to grade," according to the Irish regulator's preliminary decision. A final order is expected in the coming months. Meta may be forced to leave Europe if the Irish regulator sticks to its preliminary verdict.
"We will likely be unable to offer a number of our most major goods and services, including Facebook and Instagram, in Europe if a new transatlantic data transfer framework is not adopted," Meta wrote in its annual report. "If Facebook and Instagram were to be removed from the market, it would considerably and negatively damage our business"
Conclusion
Meta's damage control; Meta's damage mitigation
After Meta addressed the possibility of leaving Europe in its annual filing, some news outlets characterized the news as the social media giant "threatening" to leave the continent. "There has been news in the press that we are 'threatening' to leave Europe because of the uncertainty about EU-US data transfers arrangements," Meta said in a statement in response to such media stories. This isn't correct."
"We have absolutely no intention to exit from Europe; of course, we don't," the business added. However, Meta, like many other businesses, organizations, and services, relies on data transfers between the EU and the US to operate our worldwide services... In the same way as other international and European companies,