2022 Predictions of Social media updates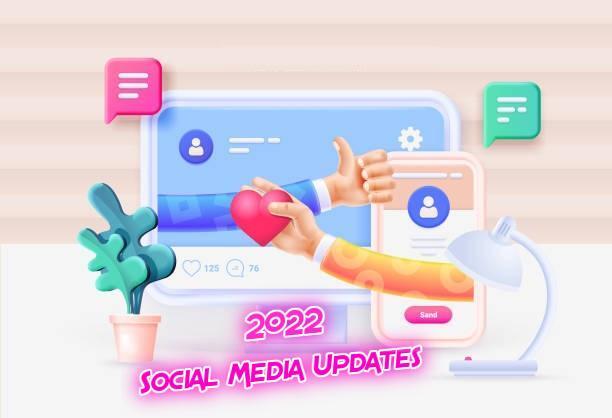 As we faced a huge change on all the social media platforms; we went from waiting for a new like and then thank all likers for dropping by our profile, to start Marketing, Selling, Running, Initiating, building businesses, start gaining revenues, and counting money! 
As we are preparing ourselves for our upcoming year 2022, we need to check out what challenges we may face! How, Where, and When we will be executing our strategy for the upcoming Quarter! 
We shall start by identifying, Comprehension and applying the 2022 new updates to our Social Media Marketing Strategies. Let's grab your Content strategy, and start modifying your social media objectives: 
•    Social media becomes a part of daily life
It's all about the Searching process; if we are talking about the organic reach and engagement, we need to make sure we are using the most searched keywords. As on average, people spend more than 145 minutes on social media every day; searching, connecting, sharing, and shopping. So social media is far from being a new concept! Naaah not anymore! But searches! For over 5 years it is the upcoming event; to discover how easy my targeted audience can find me, connect with me, and how can they "call to action" for my products and services. 
•    TikTok and Instagram battle! Who will win! 
TikTok is a social media platform dedicated only to short videos, Instagram launched Instagram Reels in 2020; which allows users to record and share short videos too!! Not to forget mentioning IGTV and stories, Hmmmm I guess we need to add either a huge video campaign or videos strategies should enroll within our upcoming 2022 journey.
•    Social media is the new shopping platform! 
Let's take a trip back to the quarantine and pandemic era -if I may say that- and HOW it did affect and changed our shopping behaviors!  Personally, I can't even recall when it was the last time going out and enjoying a wonderful, irresistible, and mouth-watering meal at some restaurant! Since our behavior was going digital, we started to become more engaged shoppers through social media platforms. Starting this process by searching, connecting, sharing, hitting that the "Call to action button" for ordering online and start enjoying our purchases. Add to that home delivery while we are resting in our pajamas. Prepare yourself to start selling before spreading the Brandawarness of your Brand! Start Hit, sell then educate about what products or services you provide; Make sure to Manage your digital presence the way it should. 
•    Facebook "lord of the platforms"
Facebook; the first of his rank and the Lord of the platforms until this moment, as we consider it the most used social media platform in the world, the average user spent about 58 minutes each day. We don't neglect the success of the other platforms but as it is expected to continue the dominance the market in the coming years. 
Conclusions: 
As End-users, we spent the day searching, browsing, engaging, and sharing. We spend our time looking, checking, commenting, and shopping through social media platforms, regardless of which platform it is! But we are socializing distantly!  from our smartphones and smart devices. Yes, we are sending more time on social media but we spent less time engaging with our Family, Friends, and colleagues' posts. For the sake of attention make your content bite-size such as short videos with disappearing content, Enjoy Sharing!