E Commerce platforms VS. E Marketplace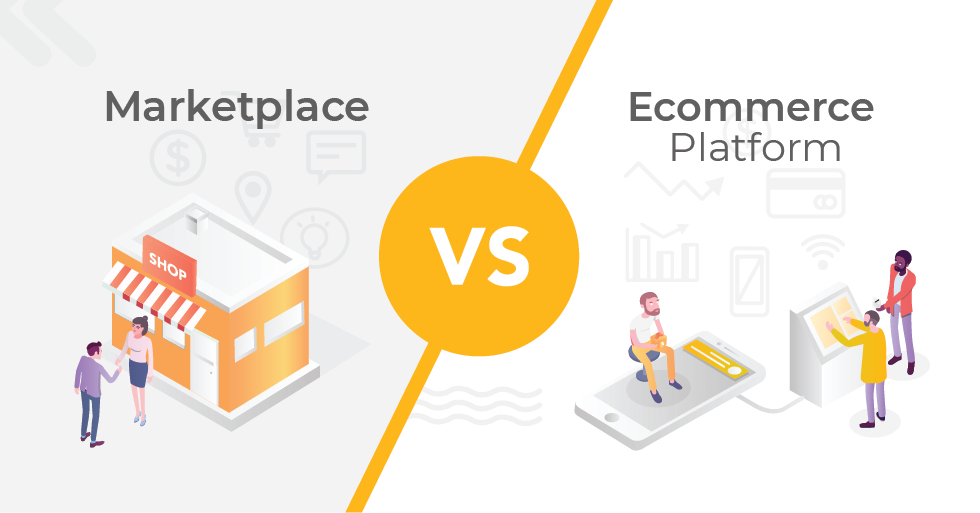 The difference between E platforms and E Market place 
Let's start with stating that the e-platform and e-commerce are two sides of the same coin.
 Platform for eCommerce and marketplaces are two different things. An eCommerce store is a standalone website created with eCommerce software such as Drupal Commerce. A marketplace, on the other hand, is a platform where buyers can identify merchants, engage with them, and buy things. 
The two most popular options for online merchants all around the world are an eCommerce website and an E-marketplace. Each solution leads to a distinct set of clients. As a result, it's one of the most important considerations to make before going live. We'll go over all you need to know about marketplace vs platform in this blog.
E Commerce Platforms 

If a merchant decides to start an online store from scratch or add it to an existing physical store, an eCommerce platform might be a lifesaver.
First and foremost, eCommerce refers to the buying and selling of goods and services over the Internet. An eCommerce platform, on the other hand, is an end-to-end software application in which both parties, sellers and customers, can participate and perform their responsibilities.
eCommerce website builders, accounting and inventory management systems, and customer support infrastructure are all examples of this type of service. Above all, a consumer should be able to use an eCommerce platform to find things, add them to a cart, and then check out.
Drupal commerce is one of the most popular eCommerce platforms on the market today, and it's one that we particularly prefer.
What are the Pros and Cons of selling on eCommerce website
 
E Marketplace 
An online marketplace is an eCommerce site or app that allows customers to shop from a variety of vendors. The operator of the marketplace does not own any inventory. Instead, their role is to display customers other people's stuff and facilitate transactions. There are numerous online marketplaces now, including Amazon, eBay, Etsy, Walmart, Alibaba, and many others. Markets are expanding at a rapid pace these days. Worldwide marketplaces will account for 40% of the global internet retail sector, according to researchers. Putting your business where your clients want to buy from can enhance your revenue from selling on online marketplaces, according to 75% of marketing professionals.
Pros and Cons of selling on E marketplace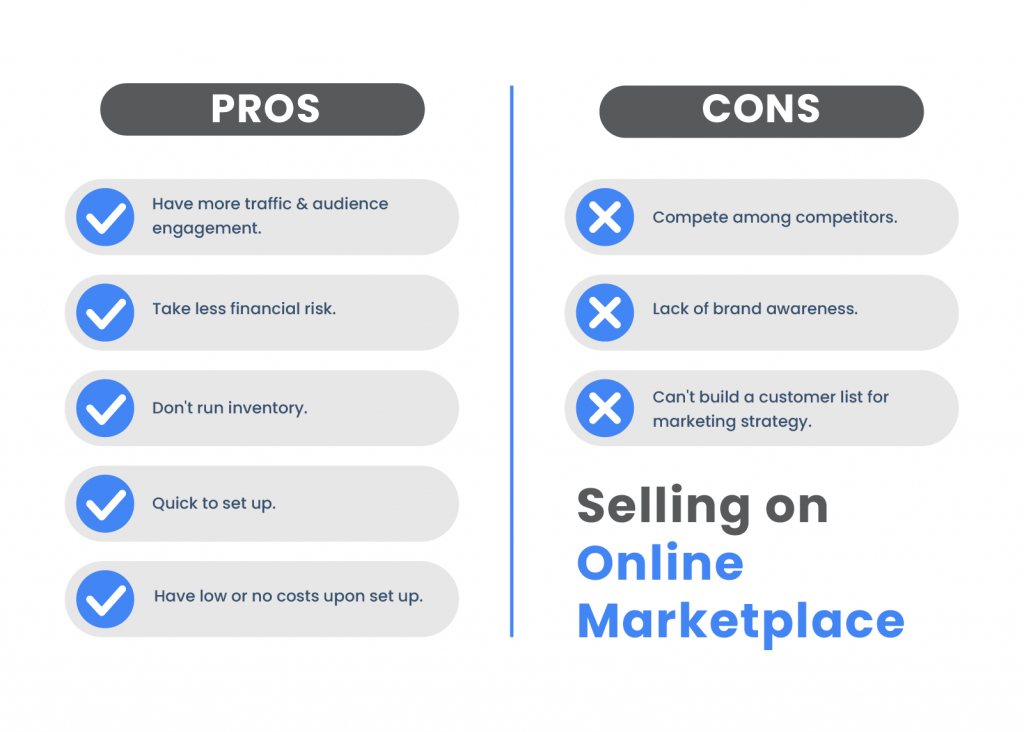 Main key difference between E Commerce VS. E Marketplace 
1.    Traffic and audience engagement
In every online business, whether it's an eCommerce site or online marketplace, traffic and audience engagement are vital. 
The goal of marketplaces has always been to bring buyers and sellers together in a transactional environment. The target audience is larger due to the marketplace's nature, which provides a wide range of product categories and hence greater traffic to the site.
Customers are regularly encouraged to make purchases on online marketplaces, while store owners are encouraged to add additional products or services to their lists. As a result, online marketplaces provide more options for customers to engage in product purchases. Network effects do help marketplaces: more customers attract more sellers, and vice versa.
Engaging the audience in the eCommerce business, on the other hand, is more difficult. Attracting traffic to a website takes a long time and costs a lot of money. 
2.    Marketing and Brand recognition 
E Marketplace 
If you're using E-marketplace; sellers on marketplaces have limited to no access to their customers. Accordingly, it's tough to sell your items or generate brand awareness and loyalty. The absence of direct access to client analytics and communications is a major downside of marketplace platforms. Even if your items are unique, there are a lot of identical products out there competing for the attention of your potential clients when it comes to brand rivalry. As a result, your product may or may not be able to stand out in a crowded market.
Many customers who shop on marketplaces believe they're buying from that marketplace, even if they're actually buying from you. As a result, when customers return, they are more likely to recall the marketplace rather than the brand. The focus of most marketplaces is on the products rather than the sellers. This makes developing brand awareness and recognition incredibly challenging.
E Commerce 
eCommerce websites have full access to all customer analytics and can contact customers directly to tell them of sales specials and new product releases. Furthermore, having direct contact with your clients allows you to provide better customer service, collect more precise information, and provide feedback on product development. You can study client behavior to have a better knowledge of them and improve the user experience on your website. 
As well, one of the greatest advantages for managing your ecommerce website; you can target people who visit your e commerce platform as well as you can build a long term relationship and convert them from potential into loyal customers. 
3.  Scalability 
Owners of marketplaces, in reality, accept less financial risk than owners of eCommerce websites. Store owners don't acquire or sell anything when selling on marketplaces, which dramatically boosts the scalability of the business. As a result, marketplaces can more quickly achieve economies of scale, allowing them to grow quicker than eCommerce websites.
When traffic spikes, you may need to find new vendors to keep up with demand, but you won't have to worry about spending a lot of money on additional inventory or storage space. When it comes to scaling up an eCommerce website, however, it requires more time.
In fact, they will need to acquire additional product stock and locate additional storage space for it. As a result, you'll need to hire more people.
4.    Inventory and Stok Management 
Online marketplaces do not have inventory because they are mainly a platform for e-merchants to display their products and connect with purchasers. There's also no danger if the things don't sell. When a product receives no traffic, it is the seller's responsibility, and you do not have to bear the financial burden of holding onto a product that is not selling and taking up storage space.
If you use an eCommerce website, on the other hand, you may have trouble managing inventory unless you use drop shipping to satisfy client demand. Otherwise, you'll have to justify the purchase or renovation of warehouse space without impacting profit margins. You can keep things that aren't selling this way.
5.    Volume (Profit Margins) 
In reality, profit margins on online marketplaces are smaller than on eCommerce sites. Marketplaces make money through listing and commission fees. To stay profitable, these companies need a large number of listings and transactions on their platform.
eCommerce platforms, on the other hand, have a bigger profit margin on each individual sale. As a result, they don't have to be concerned about numbers as much as they do about quality sales. If your company offers high-priced things, for example, one or two sales each month could result in a big profit margin. Furthermore, commission fees on pricey products will surely bring in more money than commission fees on less expensive things.
6.    Time and Cost 
 Creating an online store on the marketplace might initially save time and money. By focusing on product development and sales rather than constructing your store, you may fast grow sales and profitability.
On the other side, developing an eCommerce website will almost probably be more expensive up front. You'll need to build your own website or employ a web developer to design and maintain it.
Merchants must pay a commission on each sale when they advertise products on marketplaces, and depending on the platforms you choose, you may also have to pay other costs. The commission and listing costs may add up to a large amount over time. As a result, if your business strategy succeeds in the long run, eCommerce will benefit you.
Conclusion 
Platforms for eCommerce and marketplaces are two different things. An eCommerce store is a standalone website created with eCommerce software like Drupal commerce.
A marketplace, on the other hand, is a platform where buyers can identify merchants, engage with them, and buy things. As a result, a marketplace typically has its own customer base and imposes numerous limitations on its users. By connecting to a central platform and managing everything from one location, you can effortlessly link your eCommerce business with an online marketplace.
When you connect your E-marketplace to your eCommerce store and sell on both channels, this is known as marketplace-based eCommerce. You'll be able to expand your customer base and have more opportunity to reach out to new customers this way. 
Setting up your own eCommerce website can be a good option if you're already a well-known brand and don't want to split your revenues with a marketplace, or if you require a custom-made solution. eCommerce, or an online marketplace, is a terrific location to sell, but it's not your only option when you can combine the two to grow your business.